What is involved in making a veterinary medical illustration?   How is this different than making any other work of art?

In this series, we'll take an insider's tour of the steps to create a work of medical art. We'll start with a project to visualize the anatomy of the dog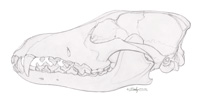 , and build upon this idea as the project develops.
First, it's important to note that some misleading assumptions exist, including:
that any commercial artist, designer, or medical professional can create medical illustration;
that artistic talent and expertise are intrinsic, so an artist doesn't need to train, practice, or perform research or consultation;
that drawing a subject involves only a still life or photo, a drawing tool, and a surface for presentation;
that there is a value difference between fine art, applied art, and commercial art, as well as between tangible and intangible art forms;
and, that the artist is a hired hand instead of an expert and partner.
These assumptions make it difficult to understand the development of, training for, cost, and licensing of veterinary medical illustration. Art can exist as more than a decoration for your clinic wall or website. Medical illustration is beautiful, but its value also lies in its ability to communicate and inform the viewer of the subject matter.
So, what do we think of before creating a veterinary medical illustration?
First, we want to make a basic plan. This includes asking key questions:
Purpose: What do we want to say? What are our goals for the project?
Audience: To whom are we speaking? Who will use the art?
Medium: How do we want to show the illustration?
Delivery: How and where will the art be used and/or licensed?
Deadline: When will the art be needed?
Budget: How much will it cost to meet our goal?
The plan forms the framework for the next step in our series where we have a conversation: Consultation: Illuminating the Plan.